AnimSchool Fantasy Character WIP + Talha Shamsi
Hi,
Somehow I saw the email a bit late (was in my spam xD) 😛 regarding this awesome contest, being a bit rusty I decided to patriciate and see whether I will be able to end this on time or not. Recently started to binge watch Viking series so my character will be of Viking era Norse God or Norse Demi-God type.
Up into the overturned keel
Clamber with hart of steel
Cold is ocean spray
Your death is on its way
Your death is on its way
Vikings Poem
🤪 https://www.youtube.com/watch?v=oUktTAn0IsA&feature=youtu.be&ab_channel=Himmelporten 🤪 
Topic starter
Posted : 07/01/2021 8:03 pm
So model few blocking came up with this silhouette, I kinda like the overall feel of the body, props and weapon missing but now I want to play with Zbrush. 2 ideas rushing my mind 1) keeping it simple stylized 2) hence proportions are already stylized, I might go with hulk or venom like muscles, eitherway will depend upon my mood xD., I will design accessories and might go with a gigantic weapon. This character can be one of the Jötunn from Norse Myth in a stylized version. 
Regards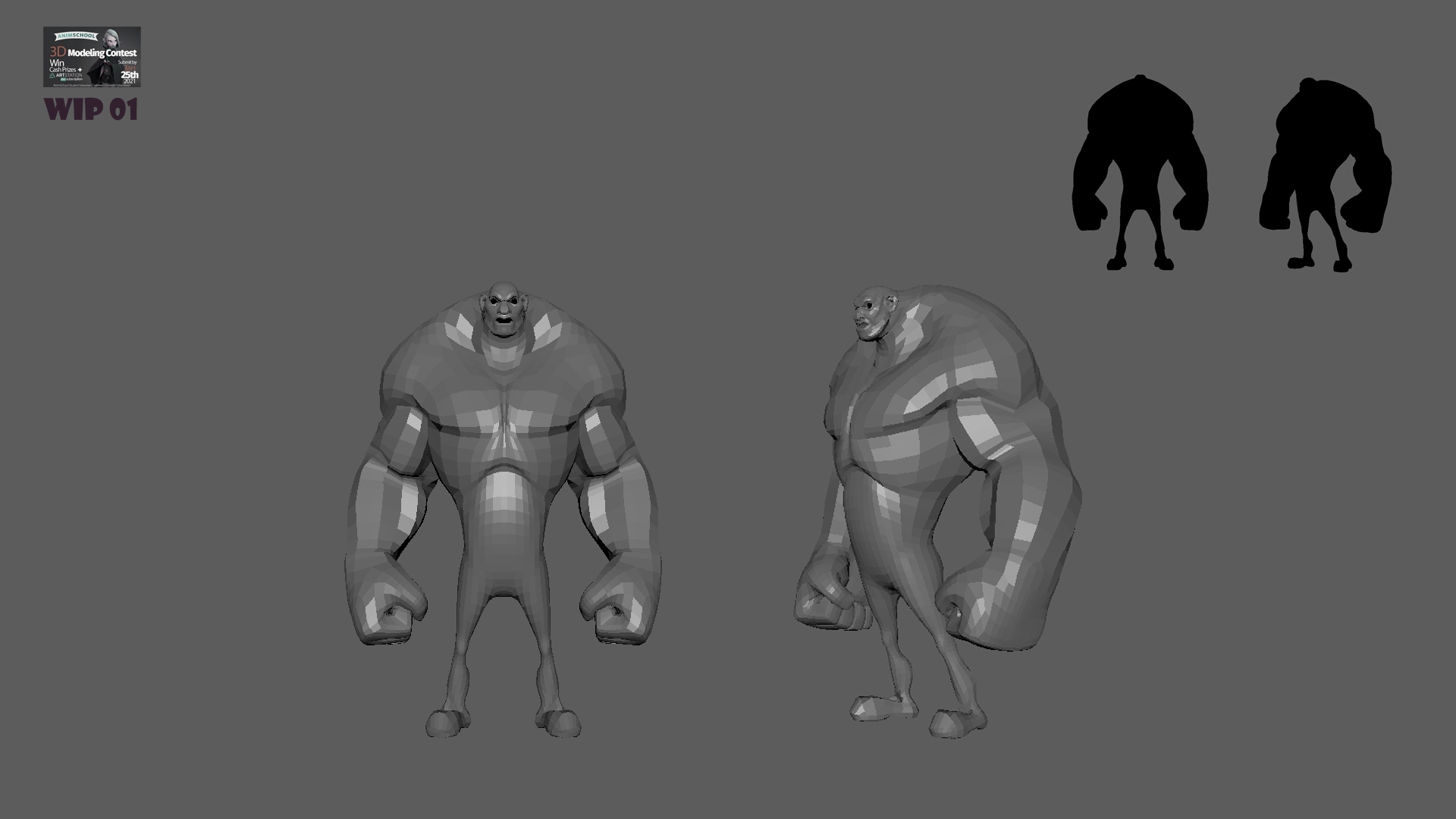 Topic starter
Posted : 08/01/2021 5:28 pm
Todays update, for now I will stop doing muscles and started to add items/props/clothing. Hence I got few Sub-D left so will come back to refine muscles and add more details once clothing/items will be done.
Peace !
Topic starter
Posted : 10/01/2021 4:14 pm
Back again, So clothing/props done, hopefully will complete the weapon and pose then will see how to render it out before times runs out 😛 
Once pose is ready I have to tweak polish few thing add minor details too before rendering 🤪 😱
tick tock tick tock xxxxxxxx 
Regards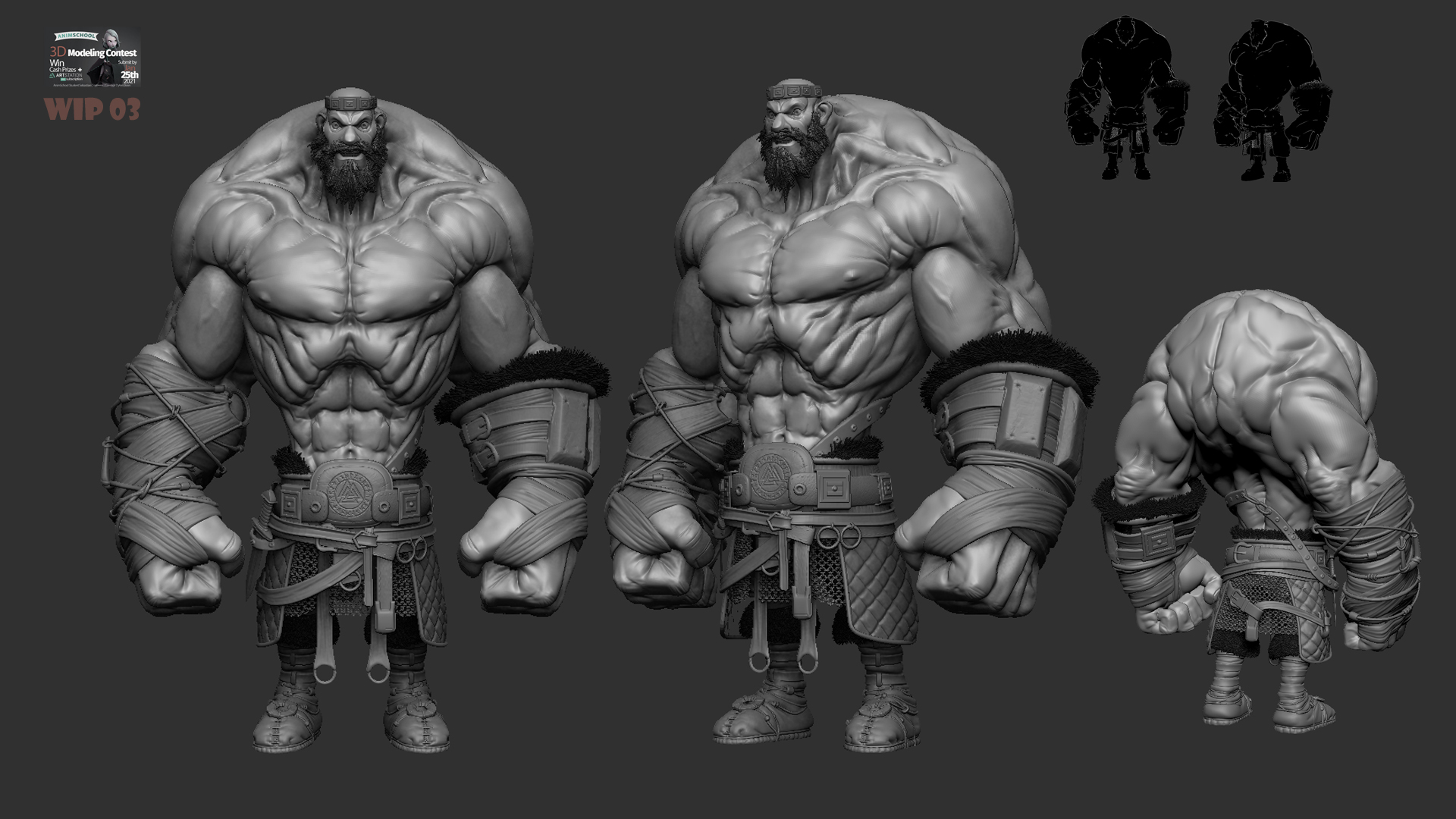 Topic starter
Posted : 17/01/2021 1:13 pm
just amazing progress 😀 👍 👍 
Posted : 18/01/2021 3:55 pm
(@abdulrahmen) thanks 😇 
Okay posed done, I think I will go with this pose, The hammer is Inspired from Krik Hammar from BloodBourn (love that game from my heart) I dont want to give him Thor or avengers like hammer hence to me a big chunk of block of steel or cliff rock is more suitable for him 🤪 
Altho I want add more detailing, experiment with the items but for now I have to stop and move forward or it will end in my incompleted stuff folder.
Next in que is Uving, texturing, Xgen grooming, Lighting and Rendering 😱 😱 😱 😱 😱 😱 
I will try to add more detail in Substance let see, also I am aiming to render this out in Unreal. 
Regards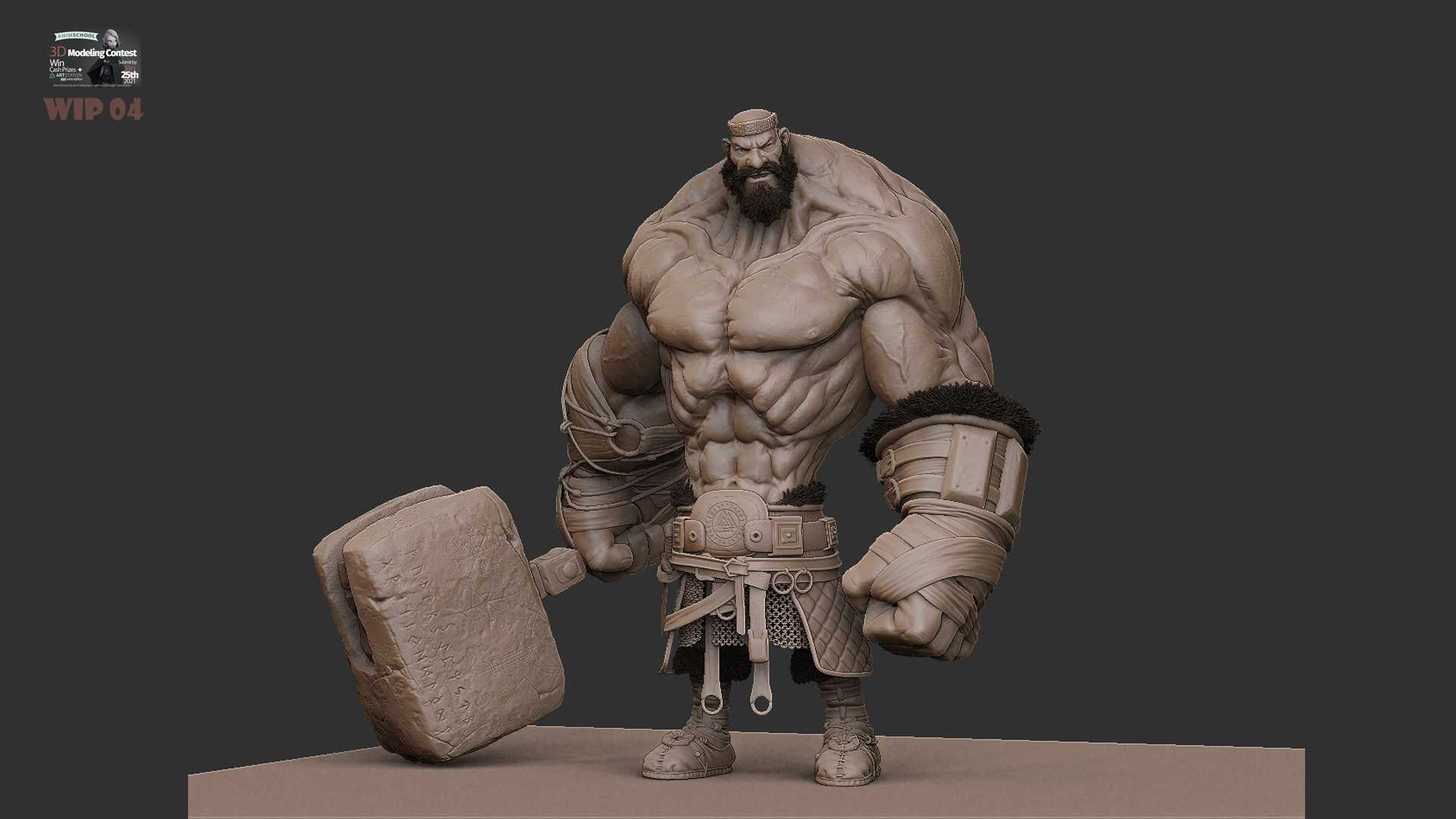 Topic starter
Posted : 20/01/2021 6:27 pm
amazing details man !!!
I just amazed again 😓 😀 👍 👍 
Posted : 21/01/2021 2:05 am
🤯 🤯 🤯 😱 😱 😱 
clock is ticking tick tock tick tock so very little update altho not sure why posting maybe just to show progress, kinda a montage, texturing all done, grooming nearly completed. Now extracting and compiling in unreal. will have under 24 hours to complete, light and post. Let see *fingercross*
😱 😱 😱 
Regards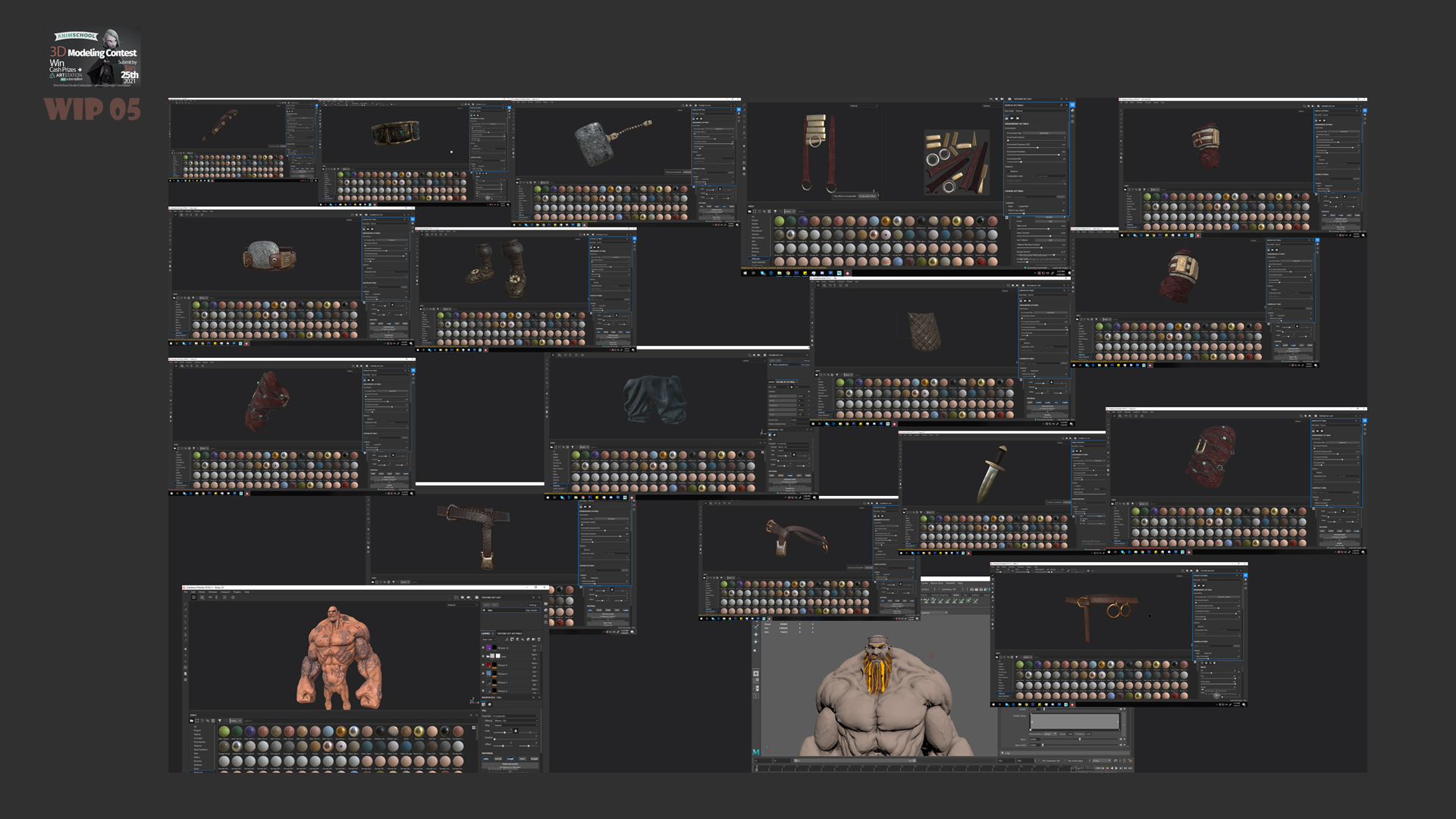 Topic starter
Posted : 28/01/2021 2:00 pm
Topic starter
Posted : 29/01/2021 4:40 am
Ok guys, it was an awesome contest, good luck all, nail biting last moments for me 😆 
Will Update different angles and few closeup later Sunday on artstation and other forums.
Now too tired.
Final Image done in Unreal
Regards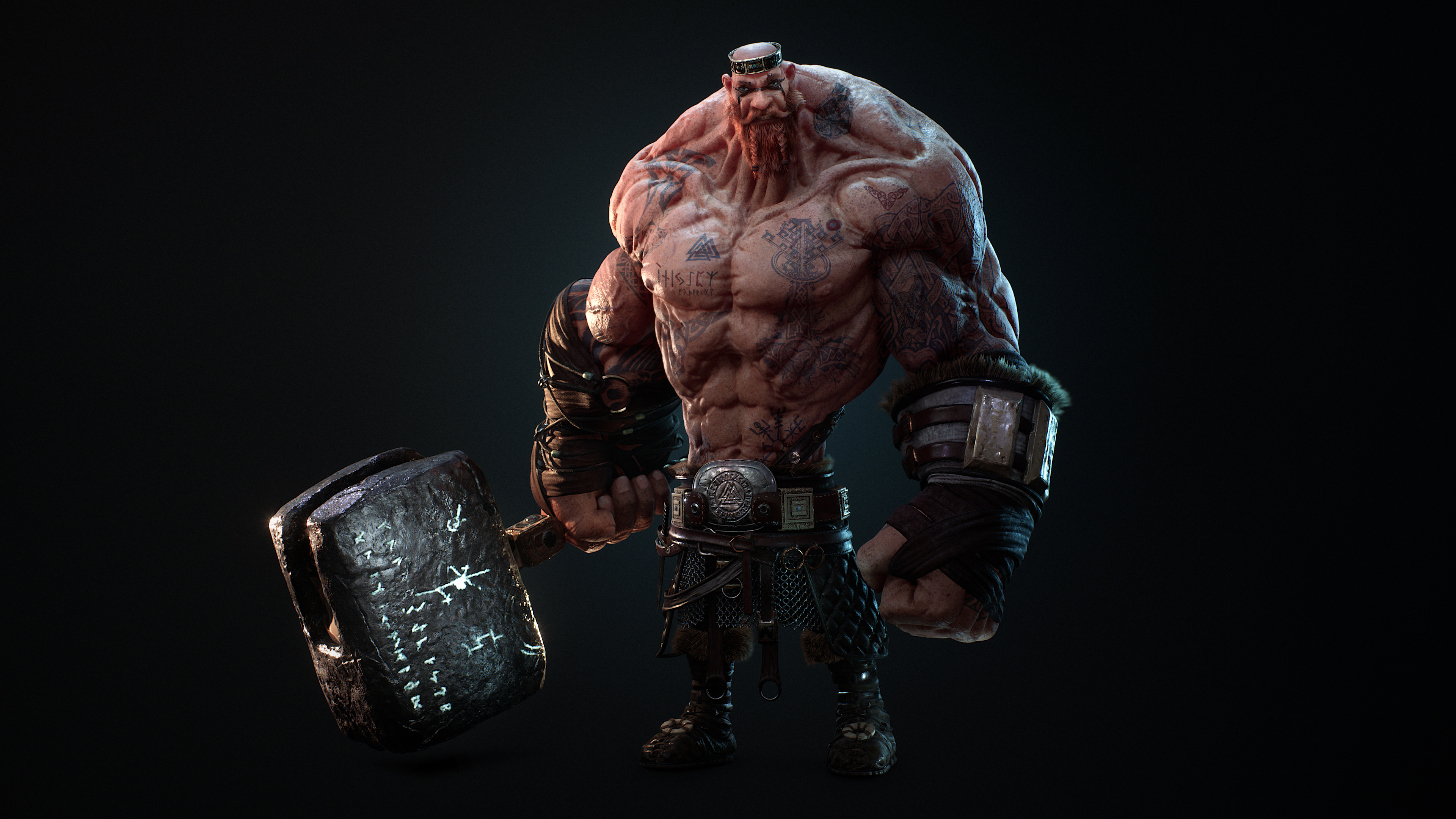 Topic starter
Posted : 29/01/2021 6:16 pm