AnimSchool Fantasy Character WIP + Shankar Subedi
SUBMISSION ENTRY PROFESSIONAL DIVISION
Hello . My name is Shankar Subedi and I am from Nepal.I will Be posting my Character modeling progress here  here in this thread for the competition . Thank you .  
I Want to make a Appealing Male design 
The pictured I refrenced here is a model done by Lautaro Gonzalez
I haven't come  up with a story yet but I am planning to design my character in 2d and work along .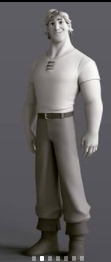 Topic starter
Posted : 09/01/2021 2:24 am